Introduction

1

STEP 1 Spiritual | Identify Your Life Purpose

8

Why Do: Step 1 | Spiritual

05 min

Learning Tool | Uncover Your Life Purpose!

15 min

Sidestep 1 | Answer Seven Questions!

30 min

ANSWER SHEET 1 | SYDNEY'S RESPONSES TO THE PURPOSE QUESTIONS

15 min

ANSWER SHEET 2 | MY LIFE PURPOSE QUESTIONS

30 min

Sidestep 2 | Analyze Your Responses!

01 hour

Sidestep 3 | Polish Your Purpose!

01 hour

Integrating and Moving On to Step 2

05 min

STEP 2 Mental | Use Your Personal Values Consciously!

8

Why Do: Step 2 | Mental

05 min

Learning Tool | Identify Your Personal Values!

15 min

Sidestep 4 | Order Your Personal Values!

30 min

ANSWER SHEET 3 | SYDNEY'S VALUES IDENTIFICATION RESPONSES

15 min

ANSWER SHEET 4 | MY VALUES IDENTIFICATION RESPONSES

30 min

Sidestep 5 | Reorder Your Personal Values!

01 hour

Sidestep 6 | Connect Your Values to Your Purpose!

01 hour

Integrating and Moving On to Step 3

05 min

STEP 3 Vocational | Find Your Dream Job!

6

Why Do: Step 3 | Vocational

15 min

LEARNING TOOL | Find Your Dream Job!

Side-step 7 | Describe Your Dream Job!

Side-step 8 | Develop Your First Plan!

Side-step 9 | Connect Your Dream Job Plans to Your Purpose!

Integrating and Moving On to Step 4

10 min

STEP 4 Financial | BUILD AND MANAGE YOUR WEALTH

6

Why Do: STEP 4 | Financial BUILD AND MANAGE YOUR WEALTH

30 min

Learning Tool | First Steps to Building Your Wealth!

20 min

Side-step 10 | Make an Asset List!

30 min

Side-step 11 | Set Up Your Savings Account!

30 min

Side-step 12 | Link Your Wealth to Your Purpose!

35 min

Integrating and Moving On to Step 5

15 min

STEP 5 Social | LOCATE YOUR FRIENDS

6

Why Do: STEP 5 | Social LOCATE YOUR FRIENDS

10 min

Learning Tool | Identify Your Best Friend!

15 min

Side-step 13 | Listen to Your Best Friend!

Side-step 14 | Identify Your Real Friends!

30 min

Side-step 15 | Connect Your Real Friends to Your Life Purpose!

30 min

Integrating and Moving On to Step 6

10 min

STEP 6 Family | APPRECIATE YOUR FAMILY

6

Why Do: STEP 6 | Family APPRECIATE YOUR FAMILY

15 min

Learning Tool Find | Your Family's Balancers!

Side-step 16 | Identify Your Supporter and Challenger Parent!

15 min

Side-step 17 | Set Boundaries in Your Family Relationships!

20 min

Side-step 18 | Link Your Family to Your Life Purpose!

29 min

Integrating and Moving On to Step 7

20 min

STEP 7 Physical | DEVELOP YOUR HEALTH RITUALS

5

Why Do: STEP 7 | Physical DEVELOP YOUR HEALTH RITUALS

20 min

Learning Tool | Create Your First Health Rituals

20 min

Side-step 19 | Learn Longevity's Essentials!

30 min

Side-step 20 | Develop Your Life Plan!

30 min

Side-step 21 | Connect Your Life Plan to Your Life Purpose!

30 min

Integrating All Steps with Self-Evaluation

3

Self-Evaluation

30 min

An Added Bonus – Truisms

30 min

Index of Terms

15 min
Why Do: Step 3 | Vocational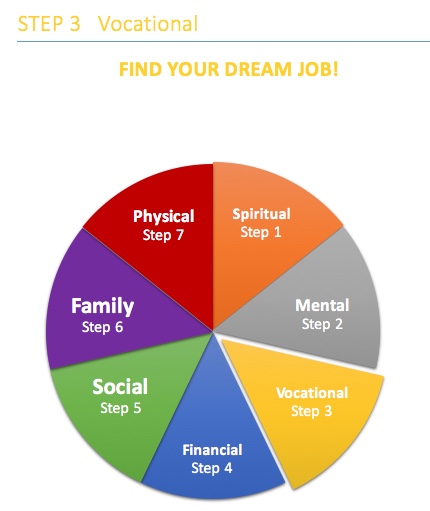 Your purpose motivates you to work to achieve it.  When you know what work is the most satisfying, and so, most purposeful for you, then you can choose the right job for a successful future.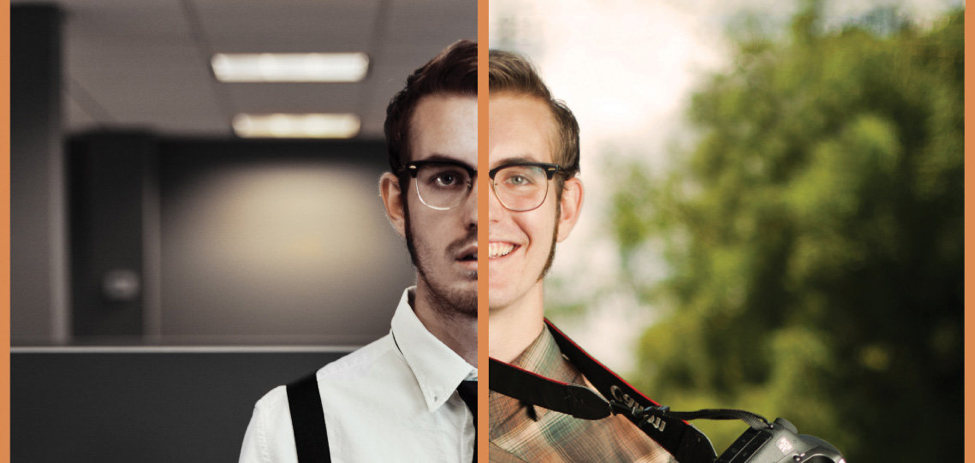 Let's review quickly your progress to success so far: Step 1 uncovered your life purpose and Step 2 your values in their order of importance.
Step 3 helps you uncover your special dream job which is one of the ways you are purposeful in your life.
Step 3 includes:
A learning tool with a method for identifying your next dream job.
Sidestep 7 which gives you clarity and detail about your dream job.
Sidestep 8 which gets you started on creating your dream job.
Sidestep 9 which motivates you to complete your dream job plans.
FIRST – Watch the Introduction to your dream job! video:
SECOND – Read below, the key ideas about your dream job:
Your dream job is those activities which feel fulfilling because they are so purposeful for you.   They are purposeful because you are filling voids of your past.
Your life purpose is demonstrated in every area of your life, including your job or work.
When you are working purposefully, whether consciously or unconsciously, you will notice a difference, with regard to your perception of time and space.  You feel so fulfilled, you are less aware of where you are in space, or when it is, in time.
It is called many things including being: focused, present, grounded, centered, engrossed, balanced, zonked out, concentrating, and being in the zone.
The more conscious you are of the purposeful connection of your work, the more inspired, committed and energetic you are!
When your purposeful work is clear to you, then you are the most motivated, creative and productive. This is when you are the most successful.
Many successful people talk about this state of awareness as being when they do their best, most fulfilling work.
There are specific activities or events from your past which give you hints about your most purposeful work.
Your dream job is the next form of work you need to do to be purposeful. You use your life purpose and your value system to design your dream job which creates your destiny.
Doing your dream job motivates you, grounds you, and fulfills you.
Doing your dream job helps you learn gratefulness for your life as it is, right now.
Your dream job may change in form across your life, but will always come from your life life purpose.
You use your value system to design or select your dream job.
THIRD
You now have a clear idea about what a dream job is and how it is based on your life purpose and values.   Move to the learning tool to get started on finding your dream job.