Introduction

1

STEP 1 Spiritual | Identify Your Life Purpose

8

Why Do: Step 1 | Spiritual

05 min

Learning Tool | Uncover Your Life Purpose!

15 min

Sidestep 1 | Answer Seven Questions!

30 min

ANSWER SHEET 1 | SYDNEY'S RESPONSES TO THE PURPOSE QUESTIONS

15 min

ANSWER SHEET 2 | MY LIFE PURPOSE QUESTIONS

30 min

Sidestep 2 | Analyze Your Responses!

01 hour

Sidestep 3 | Polish Your Purpose!

01 hour

Integrating and Moving On to Step 2

05 min

STEP 2 Mental | Use Your Personal Values Consciously!

8

Why Do: Step 2 | Mental

05 min

Learning Tool | Identify Your Personal Values!

15 min

Sidestep 4 | Order Your Personal Values!

30 min

ANSWER SHEET 3 | SYDNEY'S VALUES IDENTIFICATION RESPONSES

15 min

ANSWER SHEET 4 | MY VALUES IDENTIFICATION RESPONSES

30 min

Sidestep 5 | Reorder Your Personal Values!

01 hour

Sidestep 6 | Connect Your Values to Your Purpose!

01 hour

Integrating and Moving On to Step 3

05 min

STEP 3 Vocational | Find Your Dream Job!

6

Why Do: Step 3 | Vocational

15 min

LEARNING TOOL | Find Your Dream Job!

Side-step 7 | Describe Your Dream Job!

Side-step 8 | Develop Your First Plan!

Side-step 9 | Connect Your Dream Job Plans to Your Purpose!

Integrating and Moving On to Step 4

10 min

STEP 4 Financial | BUILD AND MANAGE YOUR WEALTH

6

Why Do: STEP 4 | Financial BUILD AND MANAGE YOUR WEALTH

30 min

Learning Tool | First Steps to Building Your Wealth!

20 min

Side-step 10 | Make an Asset List!

30 min

Side-step 11 | Set Up Your Savings Account!

30 min

Side-step 12 | Link Your Wealth to Your Purpose!

35 min

Integrating and Moving On to Step 5

15 min

STEP 5 Social | LOCATE YOUR FRIENDS

6

Why Do: STEP 5 | Social LOCATE YOUR FRIENDS

10 min

Learning Tool | Identify Your Best Friend!

15 min

Side-step 13 | Listen to Your Best Friend!

Side-step 14 | Identify Your Real Friends!

30 min

Side-step 15 | Connect Your Real Friends to Your Life Purpose!

30 min

Integrating and Moving On to Step 6

10 min

STEP 6 Family | APPRECIATE YOUR FAMILY

6

Why Do: STEP 6 | Family APPRECIATE YOUR FAMILY

15 min

Learning Tool Find | Your Family's Balancers!

Side-step 16 | Identify Your Supporter and Challenger Parent!

15 min

Side-step 17 | Set Boundaries in Your Family Relationships!

20 min

Side-step 18 | Link Your Family to Your Life Purpose!

29 min

Integrating and Moving On to Step 7

20 min

STEP 7 Physical | DEVELOP YOUR HEALTH RITUALS

5

Why Do: STEP 7 | Physical DEVELOP YOUR HEALTH RITUALS

20 min

Learning Tool | Create Your First Health Rituals

20 min

Side-step 19 | Learn Longevity's Essentials!

30 min

Side-step 20 | Develop Your Life Plan!

30 min

Side-step 21 | Connect Your Life Plan to Your Life Purpose!

30 min

Integrating All Steps with Self-Evaluation

3

Self-Evaluation

30 min

An Added Bonus – Truisms

30 min

Index of Terms

15 min
Why Do: STEP 6 | Family APPRECIATE YOUR FAMILY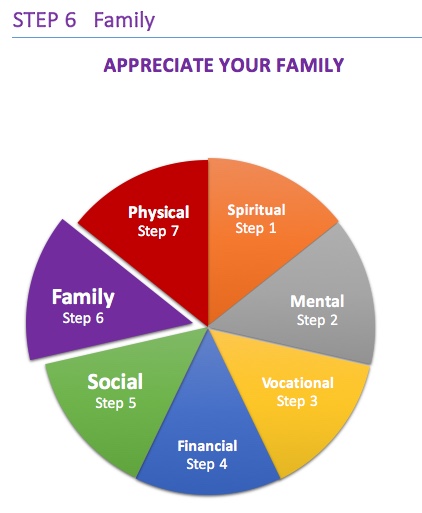 Everyone comes from a family of some form. Many people carry confused perspectives and feelings about their family. This create distractions from being successful and purposeful. You learn here how to understand and appreciate your family's role in your learning and evolution.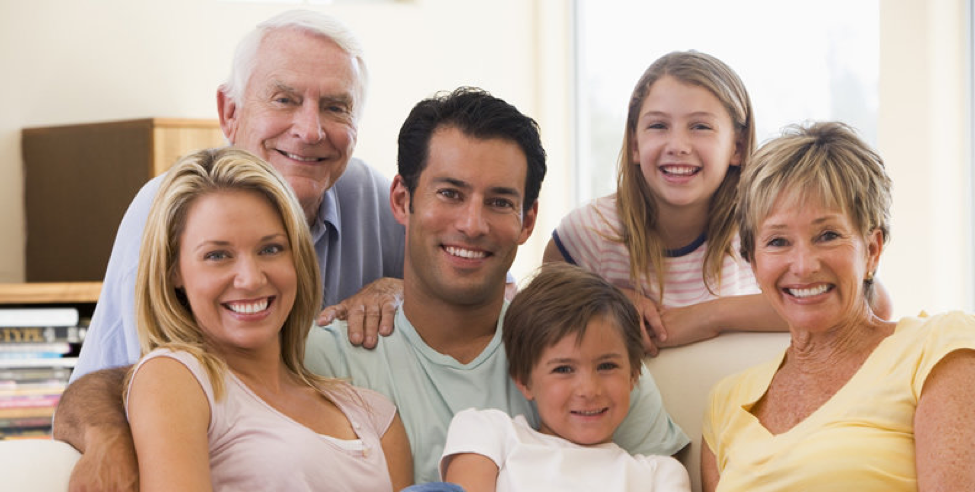 Let's review quickly your progress towards success so far: Step 1 uncovered your life purpose, Step 2 your values, Step 3 your dream job, Step 4 your wealth, and Step 5 your friends.
Step 6 provides you with the ideas and techniques to help you understand and appreciate your family which is an important part of your road to success.
Step 6 includes:
A learning tool to uncover the balance within your family
Sidestep 16 which identifies your supporters and challengers within your family
Sidestep 17 which enables you to set boundaries within your family
Sidestep 18 which links your family to your success and life purpose
FIRST – Watch the Family! video:
SECOND –  Read below, the key ideas about family:
Everyone belongs to a family of some form. Since you are listening to me right now, or reading this, your family, whatever its form, helped you survive, and so it worked well for you to belong to your family.
Families come in an infinite variety of forms and new forms are emerging.  For example, blended families are very common today yet, they were rare in the previous generation.
A family is the most basic and most successful unit of people, the most successful human survival structure, ever created.
Family members survive by being both supported and challenged equally which optimize their learning and so their survival.
Everyone alive today has had a successful family experience because they are living proof of its effectiveness.
Your family, like everyone's, is 'perfectly dysfunctional' or 'dysfunctionally perfect' which means it provided a combination of supports and challenges which ensure each person evolves.
To appreciate how your family's serves you it is important to understand it is a system of counterbalances or opposites forces which promote learning in its members.
Most families will have one member who is considered spiritual and another who is not; one who is considered smart and another who is not; one who is financially successful and another who is not; one who has social success and another who does not; one who is close to the family and one who is not; and one who is physically healthy and another who is not.
Various members, within each family, take on these roles unconsciously, at various times.
Step 6 is learning to apply these ideas to your family and to raise your appreciation of its role in your past, present and future success.
THIRD
Now go to the learning tool to find the balance in your family!