Introduction

1

STEP 1 Spiritual | Identify Your Life Purpose

8

Why Do: Step 1 | Spiritual

05 min

Learning Tool | Uncover Your Life Purpose!

15 min

Sidestep 1 | Answer Seven Questions!

30 min

ANSWER SHEET 1 | SYDNEY'S RESPONSES TO THE PURPOSE QUESTIONS

15 min

ANSWER SHEET 2 | MY LIFE PURPOSE QUESTIONS

30 min

Sidestep 2 | Analyze Your Responses!

01 hour

Sidestep 3 | Polish Your Purpose!

01 hour

Integrating and Moving On to Step 2

05 min

STEP 2 Mental | Use Your Personal Values Consciously!

8

Why Do: Step 2 | Mental

05 min

Learning Tool | Identify Your Personal Values!

15 min

Sidestep 4 | Order Your Personal Values!

30 min

ANSWER SHEET 3 | SYDNEY'S VALUES IDENTIFICATION RESPONSES

15 min

ANSWER SHEET 4 | MY VALUES IDENTIFICATION RESPONSES

30 min

Sidestep 5 | Reorder Your Personal Values!

01 hour

Sidestep 6 | Connect Your Values to Your Purpose!

01 hour

Integrating and Moving On to Step 3

05 min

STEP 3 Vocational | Find Your Dream Job!

6

Why Do: Step 3 | Vocational

15 min

LEARNING TOOL | Find Your Dream Job!

Side-step 7 | Describe Your Dream Job!

Side-step 8 | Develop Your First Plan!

Side-step 9 | Connect Your Dream Job Plans to Your Purpose!

Integrating and Moving On to Step 4

10 min

STEP 4 Financial | BUILD AND MANAGE YOUR WEALTH

6

Why Do: STEP 4 | Financial BUILD AND MANAGE YOUR WEALTH

30 min

Learning Tool | First Steps to Building Your Wealth!

20 min

Side-step 10 | Make an Asset List!

30 min

Side-step 11 | Set Up Your Savings Account!

30 min

Side-step 12 | Link Your Wealth to Your Purpose!

35 min

Integrating and Moving On to Step 5

15 min

STEP 5 Social | LOCATE YOUR FRIENDS

6

Why Do: STEP 5 | Social LOCATE YOUR FRIENDS

10 min

Learning Tool | Identify Your Best Friend!

15 min

Side-step 13 | Listen to Your Best Friend!

Side-step 14 | Identify Your Real Friends!

30 min

Side-step 15 | Connect Your Real Friends to Your Life Purpose!

30 min

Integrating and Moving On to Step 6

10 min

STEP 6 Family | APPRECIATE YOUR FAMILY

6

Why Do: STEP 6 | Family APPRECIATE YOUR FAMILY

15 min

Learning Tool Find | Your Family's Balancers!

Side-step 16 | Identify Your Supporter and Challenger Parent!

15 min

Side-step 17 | Set Boundaries in Your Family Relationships!

20 min

Side-step 18 | Link Your Family to Your Life Purpose!

29 min

Integrating and Moving On to Step 7

20 min

STEP 7 Physical | DEVELOP YOUR HEALTH RITUALS

5

Why Do: STEP 7 | Physical DEVELOP YOUR HEALTH RITUALS

20 min

Learning Tool | Create Your First Health Rituals

20 min

Side-step 19 | Learn Longevity's Essentials!

30 min

Side-step 20 | Develop Your Life Plan!

30 min

Side-step 21 | Connect Your Life Plan to Your Life Purpose!

30 min

Integrating All Steps with Self-Evaluation

3

Self-Evaluation

30 min

An Added Bonus – Truisms

30 min

Index of Terms

15 min
Why Do: STEP 7 | Physical DEVELOP YOUR HEALTH RITUALS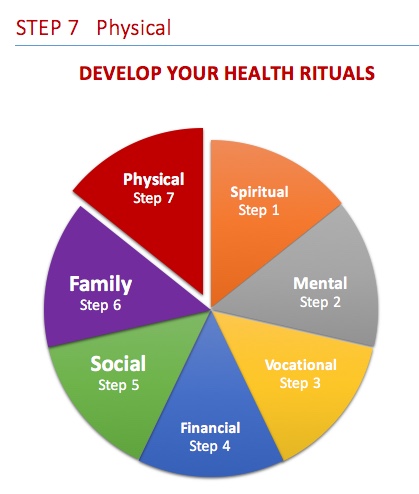 Your body is the instrument your use to be successfully purposeful. Without health you are distracted from your path. Step 7 enables you to optimize your health which optimizes your success in your future.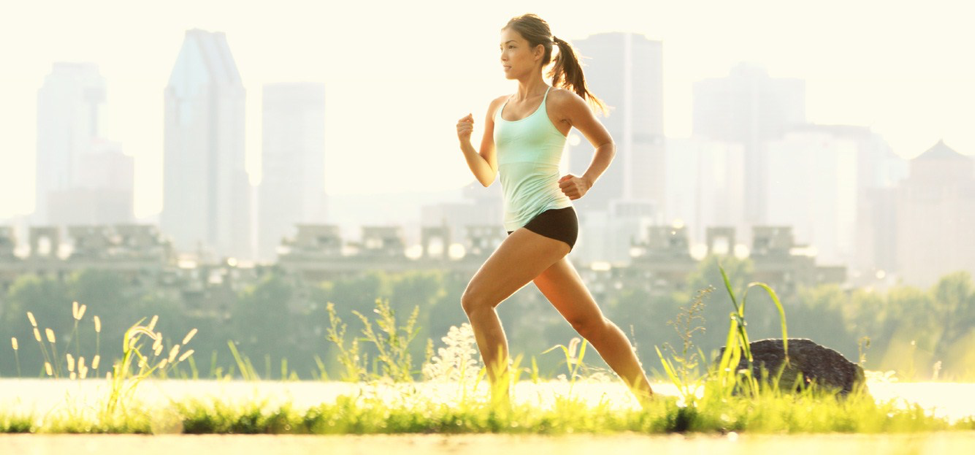 Let's review quickly your progress towards success so far: Step 1 uncovered your life purpose, Step 2 your values, Step 3 your dream job, Step 4 your wealth, Step 5 your friends and Step 6 your perfect family.
Step 7 provides you with the ideas and techniques to create more physical health for your road to success.
Step 7 includes:
A learning tool to create your first health rituals
Sidestep 19 which shows you the essentials of longevity and how to promote it
Sidestep 20 which develops and integrates a life plan to measure your success progress
Sidestep 21 which connects your life plan to your life purpose
FIRST – Watch the Your health! video:
SECOND –  Read below, the key ideas about health:
From the moment you were born, you started to die.
Research strongly suggest children born today can expect to live for 150 years.
Death can be defined as the absence of all types of movement in your body.
Conversely, life is movement, of some form, in some part of the body
Your body is the perfect motion machine designed to move at all time, and all places, on the planet earth.
If you don't use it, you lose it, is true for your body.
Your best friend you identified in Step 5, is monitoring your health 24/7 and sending you information on its current status.
Pain is actually a sensitive feedback system run by your best friend, who tells you what needs attention, and when it needs it.
There are specific things you can do, or not do, which will promote your longevity.
Your genetic history is important to longevity but research indicates it actually accounts for at most about 5-15% of human disease, the rest of your disease, 85%, comes from your lifestyle and environment.
Your body is your only connection to the world.  It is designed perfectly to meet the needs you place on it when being purposeful.
Medical science can replace parts and assist half the time in your body's self healing abilities, but otherwise, it will demand you take care of it consciously and carefully every second of your life.
THIRD
Now go to the learning tool to start enhancing your health.