Introduction

1

STEP 1 Spiritual | Identify Your Life Purpose

8

Why Do: Step 1 | Spiritual

05 min

Learning Tool | Uncover Your Life Purpose!

15 min

Sidestep 1 | Answer Seven Questions!

30 min

ANSWER SHEET 1 | SYDNEY'S RESPONSES TO THE PURPOSE QUESTIONS

15 min

ANSWER SHEET 2 | MY LIFE PURPOSE QUESTIONS

30 min

Sidestep 2 | Analyze Your Responses!

01 hour

Sidestep 3 | Polish Your Purpose!

01 hour

Integrating and Moving On to Step 2

05 min

STEP 2 Mental | Use Your Personal Values Consciously!

8

Why Do: Step 2 | Mental

05 min

Learning Tool | Identify Your Personal Values!

15 min

Sidestep 4 | Order Your Personal Values!

30 min

ANSWER SHEET 3 | SYDNEY'S VALUES IDENTIFICATION RESPONSES

15 min

ANSWER SHEET 4 | MY VALUES IDENTIFICATION RESPONSES

30 min

Sidestep 5 | Reorder Your Personal Values!

01 hour

Sidestep 6 | Connect Your Values to Your Purpose!

01 hour

Integrating and Moving On to Step 3

05 min

STEP 3 Vocational | Find Your Dream Job!

6

Why Do: Step 3 | Vocational

15 min

LEARNING TOOL | Find Your Dream Job!

Side-step 7 | Describe Your Dream Job!

Side-step 8 | Develop Your First Plan!

Side-step 9 | Connect Your Dream Job Plans to Your Purpose!

Integrating and Moving On to Step 4

10 min

STEP 4 Financial | BUILD AND MANAGE YOUR WEALTH

6

Why Do: STEP 4 | Financial BUILD AND MANAGE YOUR WEALTH

30 min

Learning Tool | First Steps to Building Your Wealth!

20 min

Side-step 10 | Make an Asset List!

30 min

Side-step 11 | Set Up Your Savings Account!

30 min

Side-step 12 | Link Your Wealth to Your Purpose!

35 min

Integrating and Moving On to Step 5

15 min

STEP 5 Social | LOCATE YOUR FRIENDS

6

Why Do: STEP 5 | Social LOCATE YOUR FRIENDS

10 min

Learning Tool | Identify Your Best Friend!

15 min

Side-step 13 | Listen to Your Best Friend!

Side-step 14 | Identify Your Real Friends!

30 min

Side-step 15 | Connect Your Real Friends to Your Life Purpose!

30 min

Integrating and Moving On to Step 6

10 min

STEP 6 Family | APPRECIATE YOUR FAMILY

6

Why Do: STEP 6 | Family APPRECIATE YOUR FAMILY

15 min

Learning Tool Find | Your Family's Balancers!

Side-step 16 | Identify Your Supporter and Challenger Parent!

15 min

Side-step 17 | Set Boundaries in Your Family Relationships!

20 min

Side-step 18 | Link Your Family to Your Life Purpose!

29 min

Integrating and Moving On to Step 7

20 min

STEP 7 Physical | DEVELOP YOUR HEALTH RITUALS

5

Why Do: STEP 7 | Physical DEVELOP YOUR HEALTH RITUALS

20 min

Learning Tool | Create Your First Health Rituals

20 min

Side-step 19 | Learn Longevity's Essentials!

30 min

Side-step 20 | Develop Your Life Plan!

30 min

Side-step 21 | Connect Your Life Plan to Your Life Purpose!

30 min

Integrating All Steps with Self-Evaluation

3

Self-Evaluation

30 min

An Added Bonus – Truisms

30 min

Index of Terms

15 min
Why Do: Step 1 | Spiritual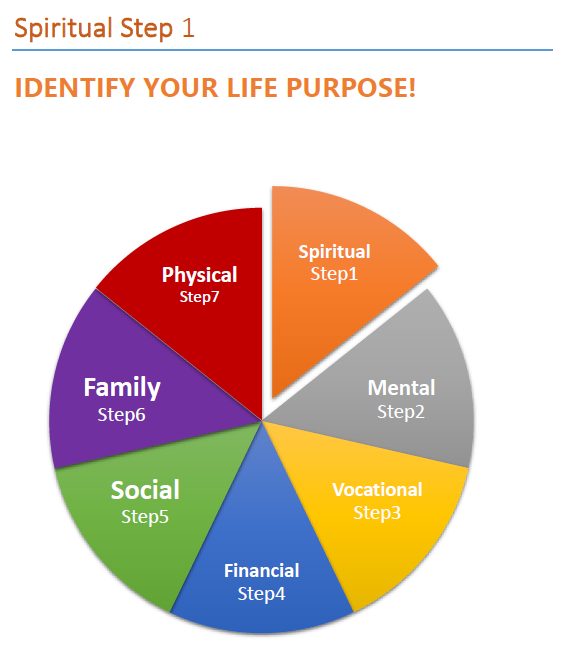 Everything has a specific purpose for its' existence, whether it is a rock, a tree, an animal or a person. Humans are the only animal who can think about their purpose consciously, talk about it, and make plans about it. Knowing your purpose is knowing your prime motivator for your future success.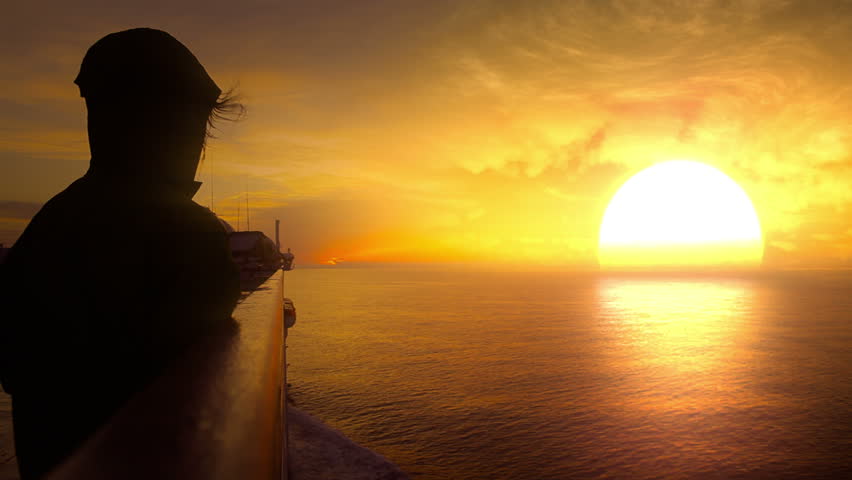 Step 1 includes:
A learning tool with the ideas and a technique which uncovers your life purpose.
Sidestep 1 which helps you answer the seven life purpose revealing questions.
Sidestep 2 which helps you connect your answers to your life purpose.
Sidestep 3 which helps you polish your life purpose into a concise statement.
Read below, the key ideas about a life purpose:
Everything has a purpose, without exception, including each rock, tree and person.
You are already on your life purpose, unconsciously.
Your life purpose motivates you daily in your life.
Your life purpose always contributes to the evolution of humanity in an important way.
Your life purpose gives a meaning to your past, an appreciation for your present, and amotivation to your future.
Your life purpose creates an inner awareness and feeling of: gratitude, certainty and love.
Your life purpose is a journey not a destination, a process not a product.
Your life purpose does not change, but, its forms change repeatedly.
Your life purpose provides a clear guide for planning your future.
You will be conscious of your life purpose after completing this step.

You now have a clearer idea of life purpose and its role in guiding your future success. Move to your first learning tool.